What supplies do you need to start Baby-Led Weaning? Your lovely, hungry baby and some nutritious food - that's really it. Nothing fancy. But if you're looking for the best highchairs, serving, food prep, storage and clean-up ideas, here's a list of our family's favourites.
Sit Up: Best Easy-Clean High Chairs for Baby Led Weaning
If you're tight on space in your kitchen or dining room, opt for a folding highchair, or one with a small footprint - you'll be happy to save room!
Mamas & Papas Juice Highchair - Not only is this chair super-easy to clean, it converts from high- to low-chair, meaning it will grow with your child. A moulded, one-piece seat pad means fewer peas that get stuck in seams!
phil&teds Poppy Highchair - How's this for easy to clean: the padding of this seat can be removed to be placed in the dishwasher. This is a good long-term investment as the high chair converts to a child's seat that they can use even in primary school years.
Asunflower Wooden High Chair - This chair's low profile means it's easier to keep your child pulled up close to the dinner table to share a meal with the family.
IKEA Antelope (Antilop) High Chair - Famous among BLW parents. Cheap, easy to clean, small footprint. What's not to love?
JOOVY Nook High Chair - A lightweight, fold-flat chair with a dishwasher-safe tray, which has been designed to quickly setup one-handed while you hold baby...this one has some amazing reviews.
Skip Hop Tuo Convertible High Chair - I love all things Skip Hop, it's all just so cute! If you have a baby on the smaller end of the weight spectrum, as I did, this one is nice and snug.
(There's overwhelming choice when it comes to highchairs. Letting babes feed themselves means there are a few unique factors you need to consider in a chair. Read our post: Best highchairs for baby-led weaning.)
Sit Up: Best Easy-Clean & Portable High Chairs for Baby-Led Weaning
Eating on the go can feel like a challenge with baby-led weaning, but really it's not! While baby is perfectly fine to sit on your lap, using a portable chair like a booster can help you go hands-free so you can both enjoy your meals and even some face time!
Baby Snug - As you can see in many photos of my wee man digging into his food, we used a Baby Snug for quite a while, instead of a high chair. Comes with a super-easy-to-clean tray you can even stick in the dishwasher. Comes in a variety of lovely colours and has a removable insert so it grows with your wee one.
Summer Infant Pop N' Sit Portable Booster - While it's not a super-sturdy everyday option, I absolutely loved this booster for lunches at the park or those lovely warmer days picnics. It allowed me to be hands-free while I ate my own lunch, instead of sitting baby on my lap!
Chicco Pocket Snack Booster Seat - With a carry strap and flat-fold, this is a super portable option you can use with baby at restaurants, on holiday and trips to grandpa's house. Easily straps to a dining chair, or can be set up on the floor.
Fisher-Price Space Saver - Machine-washable pad and a dishwasher-safe tray mean clean up is easy. This chair lasts longer than the snug as it converts to a booster seat when you're ready to have baby right at the table with you.
Serve it Up: Best Plates, Bowls, Forks & Spoons for Weaning
Silicone Placemat - One piece silicone placemat and bowl - how cool! BPA free and dishwasher safe. Perfect for joining mum and dad at lunch out, too!
Marcus & Marcus Silicone Placemat - Talk about feeding time at the zoo! This placemat would definitely keep baby focused on their food.
Marcus & Marcus Suction Silicone Bowl - This BPA-free bowl sticks to the table (or tray), keeping spills to a minimum and keeping baby's frustration at bay!
Avanchy bowls - These are just too beautiful. Natural bamboo with a suction base. As baby grows, you can remove the suction bottom - this one is a life-long keeper!
Avanchy Training Forks - Bamboo baby-friendly forks with super soft silicone tips gentle on gums.
Doidy Cup - Breastfeeding-friendly! Introduce a cup to your young baby without causing nipple confusion. Its special shape helps little ones see the water level, for fewer spills.
Food Prep: Best Kitchen and Food Prep Appliances for Weaning
Philips Avent Steamer & Blender - We used this constantly for wee man's first two years. A small steamer comes in handy for all kinds of veg, and the blender comes in handy for apple sauce, thick soups, hummus and more. We couldn't have gotten by without it!
Nuby Garden Fresh Mighty Blender - Even if you're skipping purees, a food processor comes in handy. Puree cooked apple or carrot to add to pancakes or muffins, mill oats to make oat flour for baked goods, and mix up easy thick soups.
Silicone Mini-Muffin Pan - These are brilliant for baking baby-hand-sized foods of all kind. Use them for mini-meatloaves, savoury lentil cakes, quinoa bites and more. They make the perfect sized food for little baby hands and a perfect sized portion for little tummies.
BEABA Babycook - BEABA makes lovely stuff. Defrost and reheat functions are super handy for those of you who batch cook and freeze for later.
OXO Good Grips Spiralizer - when wee man began his fussy phase, spiralised veg came to the rescue! A different shape that makes fun 'boing' action when eating 😃 Great for sweet potato, carrot, courgette, and more….and parents will love eating the results as well!
OXO Handheld Spiralizer - If you're low on countertop space, here's a good spiralizer option that fits in a drawer.
Food Storage: Best Baby Food Storage for Weaning
Skip Hop Zoo Lunchie bags - Wee man loves his Otis Owl version, and 3 years into our little gourmet journey we are still getting a lot of use from it. Its insulated bag keeps food cool or warm, and it's roomy enough for resealable containers and cutlery inside.
Skip Hop Baby Zoo Lunch Kit - Perfectly toddler-sized lunch boxes that fit into Skip Hop Lunchie bags.
OXO Tot Baby Blocks Food Storage - Perfect for prepping and freezing homemade bolognese, hummus, soups...and a cinch to defrost.
Stacking Suction Storage Bowls - We got a lot of wear out of our stacking bowls set. Three years later, they are a daily staple! Store your leftovers or pre-pepped food easily. BPA free.
Suit Up! Best Bibs for Weaning
Yes, BLW makes a mess. A good bib and floor mat will save your sanity, I promise!
Waterproof Silicone Bib - Waterproof, comfy, and catches the mess before it hits little's new outfit. Lifesavers!
Bumkins Sleeved Bib - Now we're talking. This is the kind of bib you need if you're serving up spag bol. You can throw the whole thing in the wash. You'll thank me later.
Cotton Bandana Bibs - 100% organic cotton with plush undersides to stop rashes and chafing on gentle skin. Nickel-free poppers too.
The Clean-Up Crew: Best Cleaning Supplies for Weaning
Bumkins Waterproof Mess Mat - An easy wipe mat to place under your little one as they chow down. Saves the floor and your sanity. Water-proof, stain-proof and odor-proof to boot!
Splat Mat by Honeyed - A PVC-free, large mess mat to save your floors. Large coverage and easily folds away for storage.
Cheeky Cloth Wipes - These cloth wipes are SO soft and wash up easily. Get a nice big pack to keep you going. They're incredibly multi-purpose and you'll get a load of use out of them.
Water Wipes - Since wee man was born, these have been our favourite wipes for throughout the years. For nappies, face, dirty hands, all of it. Just water and fruit extract, chemical-free, nothing else.
Milton wipes - Stock up on these sterilizing, non-toxic wipes! You'll need 'em all...
About These Links
Using these links, in many cases, will provide a small affiliate bonus to this site to help fund hosting and domain costs. It will cost nothing more to you than if you went direct to the suppliers, I promise. Thank you for your support.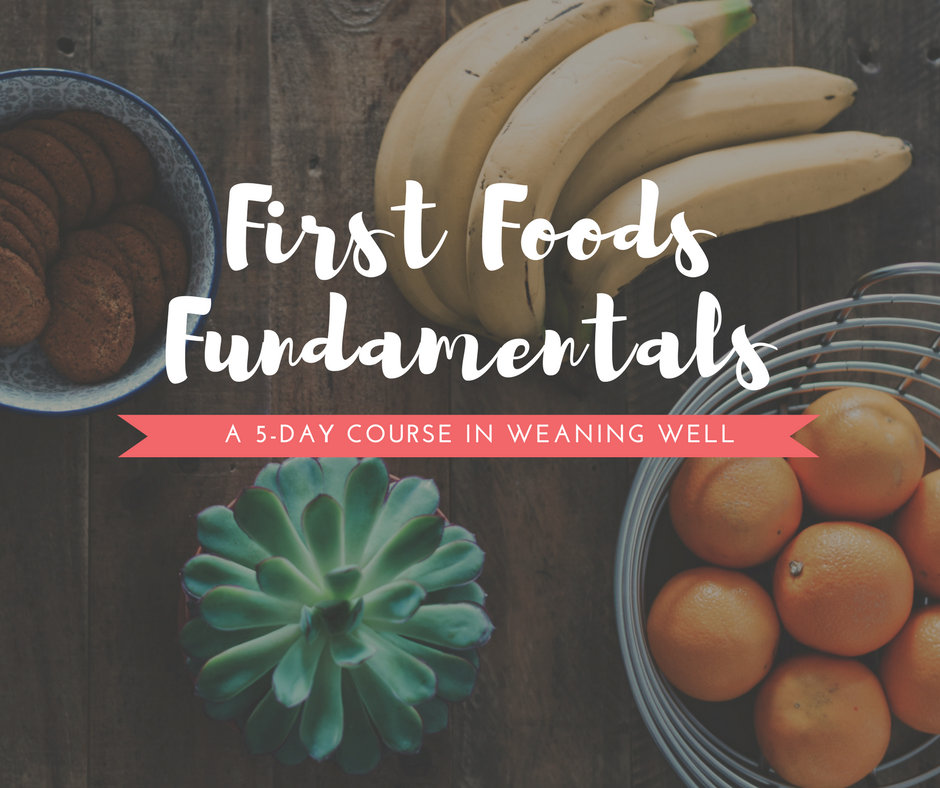 Get the FREE 5-day course and learn how to wean well
Sign up for First Foods Fundamentals to start your baby-led weaning journey, step-by-step, with lessons delivered to your inbox!